Corvus Energy awarded contract for delivery of ESS for Windmill Support Vessel
Bergen, Norway and Vancouver, Canada, 01 October 2020 Corvus Energy is pleased to announce that the company has been selected by Vard Electro to supply lithium-ion battery-based Energy Storage Systems (ESS) for the new vessel being built at Vard Vung Tau for Greater Changhua wind farms.
The Service Operation Vessel (SOV) is of VARD 4 19 design – a newly developed ship design for the complicated and harsh environment in the Taiwan Strait. The vessel will be the first SOV to be built according to Taiwanese flag and class.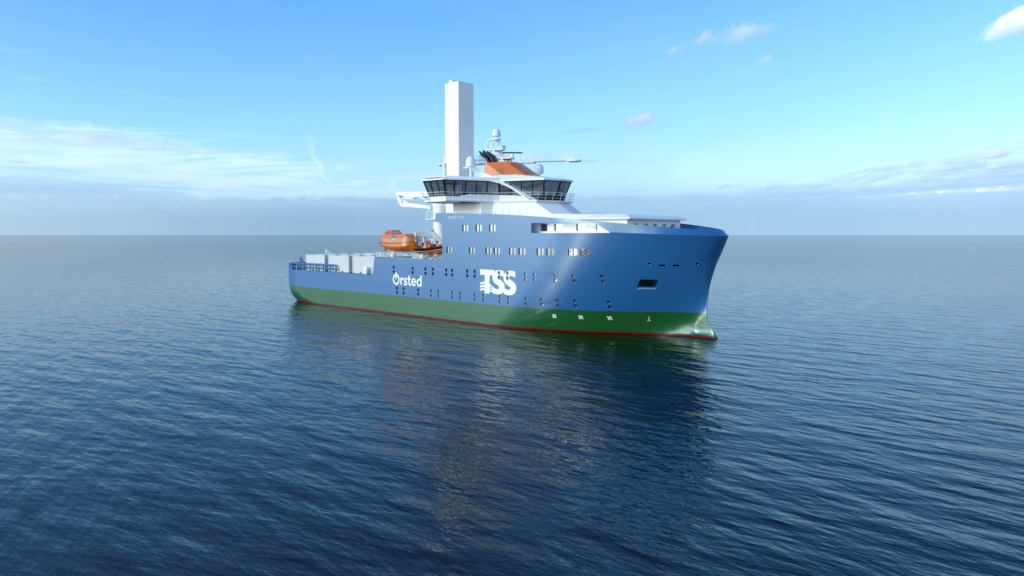 VARD is well known for its design and shipbuilding of highly advanced vessels for the energy sector. Over decades, the Group has been trusted to build a broad range of state-of-the-art vessels for the oil and gas industry, research, cable laying, icebreaking, fisheries, and other marine and maritime operations. In recent years, VARD has also developed and built a series of vessels for the expedition cruise market worldwide.
The offshore wind market is expected to grow due to the global shift towards renewable energy. With increasing environmental focus, owners of wind farm support vessels will need to consider hybrid electric solutions and alternative fuels to meet requirements.
"As a leading actor of hybrid-electric solutions for the offshore and maritime industry, we offer Greater Changhua Windfarms products and solutions of high quality. Utilizing our extensive industry experience, we will equip their SOV with an environmentally friendly SeaQ® system that enhances safety, efficiency, and sustainability of their operations", says Peter Pilskog, VP Sales & Marketing at Vard Electro.
Vard has developed three different cost-effective SOV designs with the latest propulsion technologies and hull forms developed for offshore renewables.
The 84,4m long and 19m wide VARD 4 19 SOV is designed with all primary functions including accommodation for 89 persons, transfer of technicians to installations as well as storage of spare parts and tools for operations on offshore wind farms.
Corvus Energy will deliver air-cooled Corvus Orca ESS for the SOV.
"Vard is in the absolute forefront when it comes to designing and building specialized vessels, as well as sophisticated electrical system design", says Christian Søvik, Senior Vice President Sales at Corvus Energy. "We are very grateful and proud to be selected by Vard Electro to deliver the ESS for this highly advanced and innovative SOV" He continues; "The potential for fuel and emission savings in offshore operation is high due to the vessel`s high variations in load and high demand for redundancy. We expect the growing wind market to be an important arena for energy storage solutions and further development of green technology in the years to come"
As the leading manufacturer of Energy Storage Systems for marine, offshore, subsea and port applications, Corvus Energy provides battery power to more offshore vessels than all other providers of energy storage systems combined.
The vessel is scheduled for delivery in 2022
###
About SeaQ® from Vard
Conforming to the highest industry standards, every SeaQ® product and solutions can be delivered individually or as part of a larger integrated package, contributing to the competitiveness of VARD and meeting market needs and expectations. Vard Electro's product range consists of the product groups; SeaQ® Bridge, SeaQ® Power and SeaQ® Control.
About Corvus Energy
Corvus Energy provides high power energy storage in the form of modular lithium-ion battery systems to the maritime industry. Its purpose-built, field-proven battery systems provide sustained power to hybrid and all-electric heavy industrial equipment, including large marine propulsion drives. Corvus Energy has amassed unsurpassed experience from 400+ projects, totaling over 300 MWh and more than 3 million operating hours.
For more information, please visit www.corvusenergy.com
Media Contacts:
In Europe and Asia
Sonja Vernøy Hansen
Marketing Communications Manager
+47 99 309 309
[email protected]
In North America
Sean Puchalski
EVP Strategy & Business Planning
(604) 227-0280 ext. 123
[email protected]